We recently gave a tour of the Lafayette Cemetery, and filmed it. Here it is.
Keeping History Alive at the Lafayette Cemetery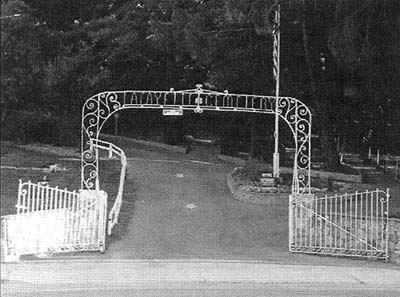 A Self-Guided Tour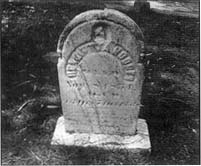 Author
Julie Wegher
With special thanks to
Lafayette history authors; Mary McCosker, Emily Haas, Dorothy Gittinger Mutnick
and the Alamo-Lafayette Cemetery District
In cooperation with
San Francisco Bay Area Girl Scout Council
The Cemetery District is open from sun-up to sun-down every day of the year.
Office hours are Monday through Friday, 9 am to 1 pm
or by appointment.
925.284.1355
3285 Mt. Diablo Blvd., Lafayette, CA
The city of Lafayette, founded in 1848, is rich in history and culture. The citizens of Lafayette have played an integral part in California's history, from their participation in the Gold Rush to taking part in early California politics. A stop along the historic Pony Express route, Lafayette attracted people from all walks of life.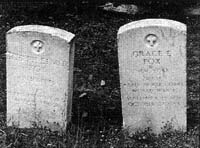 The Lafayette cemetery is the final resting place for Benjamin Shreve, the man who named our city, and Jennie Bickerstaff Rosenberg, Lafayette's beloved pioneer school teacher. History comes alive at the cemetery when visiting the plots of the Civil War veteran, a bullwhacker (do you know what that is?), relatives of the Donner Party, a World War II nurse, and first African-American male school teacher in the Oakland School District. There is even a plot where a man is buried with his dog.
I created this brochure to memorialize the interesting lives of the people buried at the Lafayette Cemetery. It is my hope that this brochure keeps the spirit and history of Lafayette's pioneers alive for generations to come.
Julie Wegher
Girl Scouts of San Francisco Bay Area
Lafayette Association – Troop #1416
Gold Award Project 2004-2005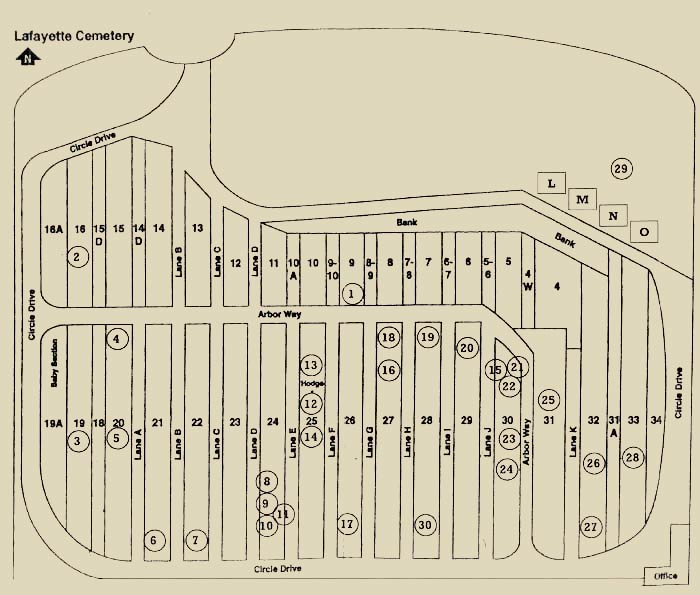 LEGEND
Earl Harvey Milton: First black male teacher in the Oakland Unified School District. Born March 11, 1913. Died August 23, 1988.
Nathaniel Jones: First sheriff of Contra Costa County from 1850-1852. Born 1820. Died 1899.
Benjamin Shreve: First school teacher in Lafayette. Built and ran the town's first general store. First postmaster of Lafayette and is credited with naming the town.
Sybil Wilkinson: A descendant of Elam Brown and the longest resident of Lafayette.
H.A. Sweet: A Civil War veteran of the Company I 184th Infantry New York.
Albert Allen: A volunteer flag bearer during the war. Born 1862. Died 1941.
Cornelius Whitcomb: A chosen director of the Cemetery Corporation.
John Standish: The leading cotton machinest in the country who applied many improvements to bring perfection to his trade. He also invented a machine that made harness and saddlery hardware. Born November 20, 1797. Died November 27, 1867.
James Harvey Gorham: Lafayette School Trustee 1857.
Frank Hammett: County Assessor, Deputy Sheriff, and horse trainer.
George W. Hammett, Sr.: Came to Lafayette in 1853 by a team of oxen. In 1854 he was Justice of the Peace and a blacksmith. He also served on the original Cemetery Board of Directors.
David Hodges, Sr.: Born in 1797 in Canada and in 1853 was named acting Justice of the Peace. Died 1872.
Clarence William Brown: One of Lafayette's first citizens and a member of the Volunteer Fire Department. He is known for driving the town's first fire engine "Old Betsy" and owning CW. Brown Hardware with his wife. Born 1895. Died 1982.
Henrietta Hodges: Died at the age of 13 on November 15, 1854. Henrietta Hodges is the oldest known burial in Lafayette Cemetery.
L.B. Starks: A Southern Civil War veteran and a bullwhacker. Born 1842. Died 1927.
William McNeil: The first immigrant from Ireland to live in Lafayette.
Aaron Melony: Elected to the State Assembly and the State Senate, and was also nominated to the State Controller during the Civil War. Died 1861.
Mary R. McNeil: WWII nurse in France. Born 1890. Died 1988.
Peter Thomson: Town blacksmith. Born March 28, 1839. Died July 13, 1914.
James Marion Daley: Director of the Lafayette Cemetery Corporation.
Grace E. Fox: Served in WWI in the Army Nurses Corps. Born 1891. Died 1953.
Joseph E. Fox: Captain of the Philippine Infantry during WWI. Died January 23, 1930.
Hiram McCartney Stanage: Owned a butcher shop and was Constable of the Peace, and a School Census Marshall.
Henry Trevitts: Member of Company G-3rd MO. Calvary.
Donner Family Plot: Relatives of the Donner Party.
Margaret Jennie Bickerstaff Rosenberg: The first woman school teacher in Lafayette who rode her horse to school every day. Her house was on Mt. Diablo Blvd., currently the site of Diablo Foods. The redwood tree that she planted as a young girl in her front yard still stands and has even survived a fire.
Robert Thomson: Came from Canada in 1869 on one of the first transcontinental trains, was the road master of Lafayette for 28 years.
Milo Heath Turner: Was a Judge in Walnut Creek.
Joe Loe Curley Brady: A conductor for the Key Railroad system, he lived in the streets of Lafayette for 40 years.
Walter Smithen and Jaeger: Walter Smithen is buried with his beloved dog, Jaegar. Born 1906. Died 1962.