Lafayette's two pioneer roads are still the city's chief thoroughfares. As early as 1850 the dirt path that was to become Mt. Diablo Boulevard was declared a public highway by the Court of Sessions and defined as road district #6. It was described as the "road usually travelled from the Rancho of Vicente Castro by the Rancho of Elam Brown, intersecting road from Moraga Redwoods to Martinez near the house of Jonah Bernell" (probably the Juan Bernal adobe).
Elam Brown was named the district's overseer, and all able-bodied males from 18 to 45 were ordered to work on the county's seven thoroughfares five days each year when needed.
In the same year the Court of Sessions said of Moraga Road: "This road from the Moraga Redwoods to that leading from Martinez to San Jose is to be designated district #5."

The earliest known picture of what is now Mt. Diablo Boulevard is this 1869 photo looking east toward Lafayette. The covered wagon by the fence belongs to the photographer who used the vehicle for developing his tintype pictures. At this time, the road appears on contemporary maps as "Road from Oakland to Walnut Creek."
| | |
| --- | --- |
| | 1915, looking west. Note the twisting contours of what was to become Mt. Diablo Boulevard and the intersecting road to the right center which is present day Moraga Road. |
| | 1926, looking west. |
| | 1937, looking west. |
| | 1970, facing east. |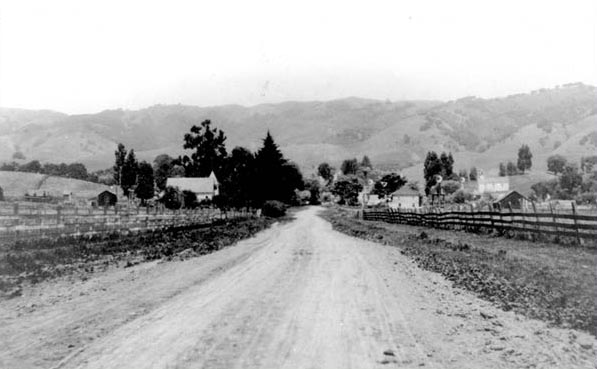 This 1915 photo of Moraga Road was taken looking north toward Mt. Diablo Boulevard. On the left side of the road stands the town's third school house, and on the right is the Albert Allen house. The Methodist Church-on-the-Hill is on the far right.
| | |
| --- | --- |
| | The same view of Moraga Road (called Commercial Street in the early part of the century) made in 1935 shows the new Lafayette School on the right. |
| | A present day view of Moraga Road looking toward Mt. Diablo Boulevard. Old Town Hall is the first structure on the right. |