Until World War II, Lafayette continued to serve as a commercial center for the neighboring farmers and the new folk who were beginning to appreciate the country life just over the hills from the bustle of Oakland and San Francisco. Roads were improved, land development increased and the stage set for the booming post war influx that would create one of the most popular suburban towns in Contra Costa County.

Before 1915 a cornfield grew just below Mt. Diablo Boulevard along Moraga Road, today the location of La Fiesta Shopping Center.

In 1910 "downtown" Lafayette surrounded the triangle of land which the town's founder, Elam Brown, had given to the citizens as a public plaza on November 19, 1864. Around the Plaza from the left are the Geils Building, the Pioneer Store, Lafayette Meat Market, Lafayette Hotel and Peter Thomson's blacksmith shop.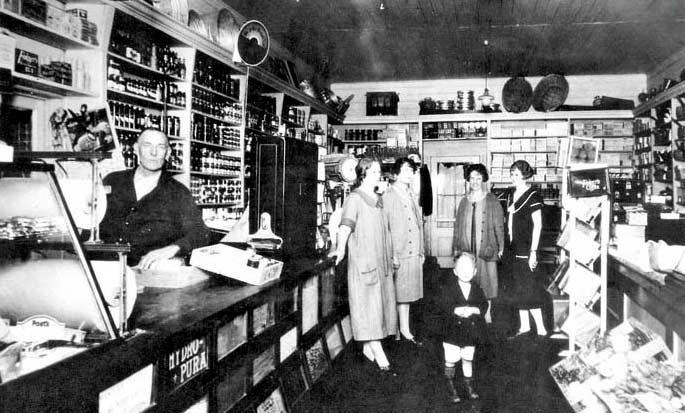 Robert Elam McNeil and members of his family were photographed inside his Pioneer Store about 1928. McNeil bought the market from Benjamin Shreve's son, Milton, in 1902 and changed the name to Pioneer Market in the '20's. The building can be seen today at 3535 Plaza Way.
The Starks' Lafayette Meat Market moved from Moraga Road opposite the Plaza to the southeast corner of Mt. Diablo Boulevard and Hough Avenue in 1920. In 1935 the original structure was demolished and replaced with this uniquely-shaped store. Remodeled in 1949 the structure now serves as a commercial building. This 1936 picture shows that local life moved at an easier pace, and auto traffic was light enough so cars could park "on the wrong side of the road."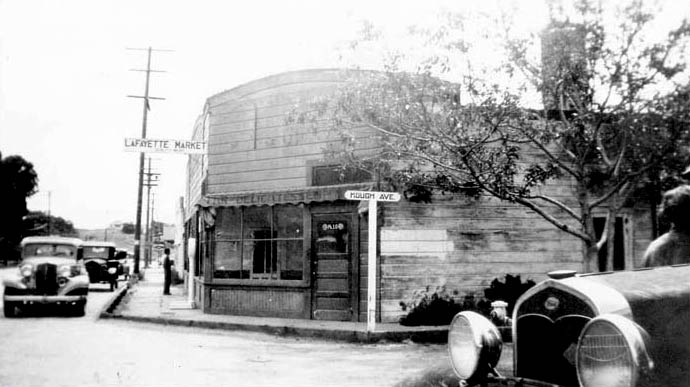 | | |
| --- | --- |
| | Clarence Brown's Hardware store, which was on the northeast corner of Mt. Diablo Boulevard and Oak Hill Road, was typical of the 1930's "Main Street" architecture. Brown and his wife, Freda, are shown in front of the store. |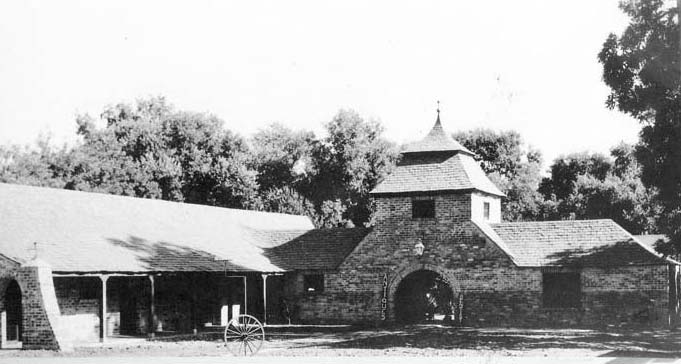 Lafayette's most unusual business building is the turreted brick Garrett Building located as 3565 Mt. Diablo Boulevard. One of the early realtors in town, Col. N. M. Garrett, built the structure in 1937 and tried unsuccessfully to promote a similar type of architecture for other buildings. He went so far as to purchase the brick and offered it as a gift for the new Post Office which was to be built next door. The gesture was declined.
| | |
| --- | --- |
| In 1925 Pat Medau's ice cream parlor, located in the old Way Side Inn at 3521 Golden Gate Way, was a popular spot for local youngsters. Medau's wife, Lizzie, poses behind the counter. | |
Oil! was the cry in 1901 when the Berkeley Crude Oil Company offered 300,000 shares of stock to explore for "black gold" on the Flood Ranch on Upper Happy Valley Road. Again in 1921 another firm, the Central California Oil Company, offered shares of a similar operation on the Flood Ranch. The prospectus described the land as "near Lafayette, 13 miles from Oakland." No "bonanza" was ever reported, despite the glowing promises.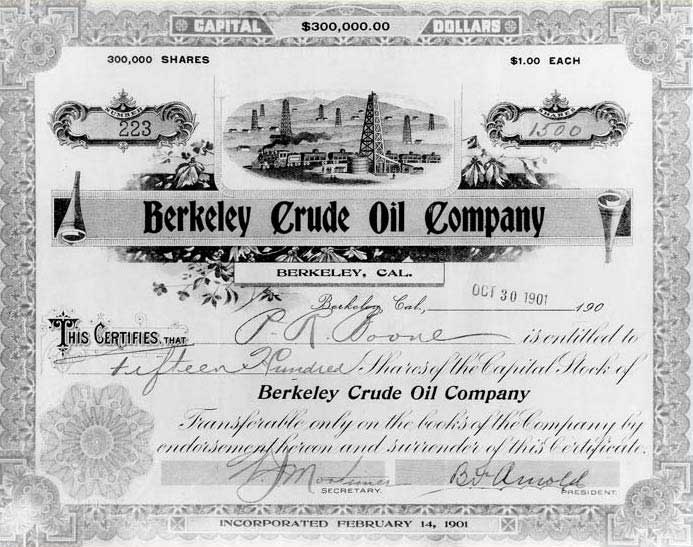 As the "outside" world began to discover central Contra Costa County, ads for "country estates" began to appear. This page from a 1913 brochure is labeled "View of Mt. Diablo from the New Townsite of Lafayette."